Jan
Feb
Jun
Aug
Sep
Oct
Nov
NuCom Group acquires majority stake in Aroundhome

ProSiebenSat.1 continues to expand its commerce portfolio: The worldwide operating growth equity investor General Atlantic sells shares in Aroundhome, Germany's largest online broker for home related products and services, to NuCom Group, and, in return, increases its NuCom stake to 28.4 percent. At the same time, NuCom Group increases its voting stake in Aroundhome from 42 percent to 94 percent and thereby holds a majority stake in all its portfolio companies.
ProSiebenSat.1 establishes new management structure
The Group adapts its management structure as of April 1: An Executive Committee consisting of the CEO, CFO, and Deputy CEO/Group General Counsel is established on Holding level. At the same time, the three pillars Entertainment, Content Production & Global Sales as well as Commerce are led by two co-CEOs respectively. All co-CEOs as well as some executive department leaders become part of the Executive Board. By shifting operative decision-making processes to the individual pillars, ProSiebenSat.1 becomes much more agile, expanding the autonomy of the segments and consistently pushing ahead with its transformation.

ProSiebenSat.1 and Mediengruppe RTL Deutschland establish AdTech Joint Venture
Read more about d-force
ProSiebenSat.1 and Facebook sign cooperation agreement
ProSiebenSat.1 is the first European TV Group to agree a comprehensive cooperation with Facebook on Facebook Watch: From latest content relating to TV formats to archive content to exclusive clips — the video destination within Facebook now offers its users a comprehensive catalogue of video material from ProSiebenSat.1. This content is exploited via the digital studio Studio71. The partnership increases the Group's digital reach and generates additional revenues in the content and production business.
Annual General Meeting resolves re-election of entire Supervisory Board
At the 2019 Annual General Meeting, the shareholders confirmed all nine members of the Group's Supervisory Board with a clear majority in office. The Supervisory Board had unanimously stood for re-election. In addition, the Annual General Meeting resolves to distribute a dividend of EUR 1.19 per share for the 2018 financial year. This corresponds to a total payout of around EUR 269 million and a payout ratio of around 50 percent based on adjusted net income.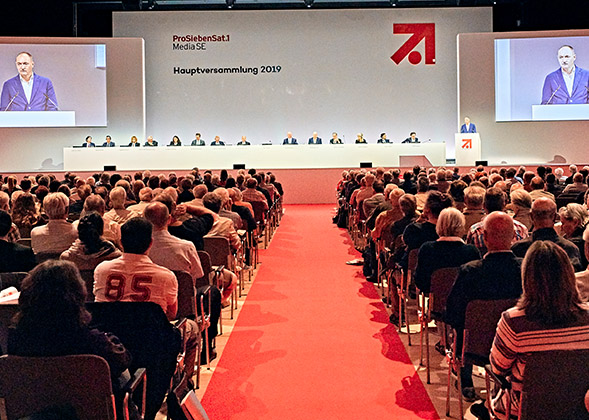 Streaming service Joyn goes live

Read more about Joyn
PULS 24 Launches in Austria

On September 1, PULS 24, the fourth purely Austrian TV channel of ProSiebenSat.1 PULS 4 Group, and its independent new app are launched. The 360-degree project offers viewers added value to national and international TV offerings, with local and live content. With PULS 24, ProSiebenSat.1 is both expanding its information expertise and driving the digital transformation of the Group forward.
7Sports further expands eSports commitment
Next step in the eSports offensive of ProSiebenSat.1: 7Sports, the umbrella brand for the Group's sports business, increases its stake in eSports GSA GmbH from 50 percent to 100 percent. The brand and domain of the news portal www.eSports.com are thus also transferred to 7Sports. After Germany, Austria and Switzerland, 7Sports is now also stepping up its international activities with the complete takeover of eSports.com. Since 2016, 7Sports has been consistently expanding its involvement in the eSports sector, which is considered the fastest-growing segment in the sports and entertainment environment.
ProSiebenSat.1 establishes production company Pyjama Pictures with Christian Ulmen and Carsten Kelber
ProSiebenSat.1 establishes the Berlin-based production company Pyjama Pictures with the two renowned content production experts Christian Ulmen and Carsten Kelber, thereby further expanding the Group's expertise in the field of content production in Germany. In the future, the new creative set-up will produce fiction content for all ProSiebenSat.1 platforms as well as for external partners. Its focus will be on German-language and local content. As the first project, the newly founded production company will produce the fourth season of the hit series "jerks." for the streaming platform Joyn and subsequent free-TV broadcasting on ProSieben.
hours of work went into making the costumes for "The Masked Singer".

new local shows were launched on our channels in 2019 and we invested over EUR 1 billion in our program.

increase in Facebook views was achieved for the ninth season of "The Voice of Germany."

aired on PULS 24 NEWS during Austria's National Council elections.

more original productions during prime time in 2019 on ProSieben alone.

of Germany's top 30 YouTube channels (measured in video views) are managed by Studio71.

truckloads of soil (around 15,000 m3) were moved for the foundations and structural work for the New Campus building.

extra packages with a total of 16,962 products were boxed by 120 Flaconi employees during a five-hour night shift the week before Christmas.

during the fourth season of "Late Night Berlin" came from digital channels, while 41% was generated with the TV broadcast. That made it the first of ProSieben's original productions to gain a higher TVV value on all online channels than via linear TV, which also saw growing market shares.

pieces of video content were available to Joyn users in 2019.